ProBugs Partnership
Meet ProBugs...

For more than 20 years, the experts at ProBugs have bred farm-raised insects, including the Eco-Fresh Insect. With a mission to provide worldwide distribution to everyone so that pets around the globe can experience the best feeds which are safe and healthy.
ProBugs provides Eco-Fresh Super Worms, Meal Worms, Phoenix Worms, Dubia Roaches, Grasshoppers and more to fish, lizards, turtles, invertebrate, birds and small mammals and rodents.
Why ProBugs?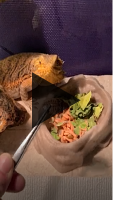 We partnered with ProBugs in an effort to supply our customers with alternative options to live insect feeders. This is great option for our customers that are not a huge fan on handling live insect feeders. Also, this is a great option for picky reptiles that want a change in their diet. This is a great opportunity to offer insect feeders that are normally not available in today's market or pet stores.